Description
This bright 108 LEDs solar flood light is not limited to residential applications. The 756 lumen generated by 108 ultra-bright LEDs is also perfect for most commercial needs. At maximum power, this LED flood light matches the brightness of a 175 watts regular electric bulb, which is enough to properly illuminate a 30'x 30′ area.
Solar Goes Green commercial solar flood light is perfect for signs, walls or area lighting and can be easily mounted in numerous locations for countless applications. With 9 'of wire between the battery box and the solar panel and 9' feet between the battery and the flood light, it offers very flexible setup options. All wires are terminated by water proof connectors. Although originally designed for ground mounting (ground stakes included) it can also be adapted for flush mounting. An optional pole bracket is available for the solar panel Click here and should you need to increase the distance between the solar flood light and the solar panel a 10 ft. extension wire is available Click here
The stand-alone 13.5 V/11 W poly crystalline solar panel charges the 11.1 V/ 6Ah rechargeable  Li-Ion battery throughout the day to provide up to 10-12 hours of illumination. The lithium battery is located on the back of the solar panel. The 108 LED turn on automatically at dusk and illuminate your space throughout the night.
This solar LED flood light comes with a convenient RF remote control allowing ON/OFF switching, dimming as well as a timer feature.
Adjustable dimmer (10%, 30%, 50%, 70%, 100% brightness) and timer (2 h, 4 h, 6 h, 8 h, 10 h running time).
This solar sign light comes with free shipping. Solar Goes Green offers a 3 year warranty for the LED flood light, 1 year for the solar panel and a 90 day warranty for the remainder of the product.
Possible applications:
Commercial and residential sign lighting
Accent lighting for trees, monuments, buildings
Flag lighting
Driveways
Parking lot lighting
Disaster areas
Horse arena lighting
Camping areas
Security lighting
Installation of your 108 LEDs solar flood light is very simple
It comes with wall mounting brackets and necessary hardware. The mounting brackets need to be screwed where you wish to install the light fixture using the screws that are included with your light.
The SGG-F108-3T comes with an on/off switch and no motion sensors, although it does have a remote control so you can turn it on and off remotely.
One of the biggest advantages of the 108 LEDs Solar Flood Light is that the solar panel and battery pack provide enough energy to run continually all night long.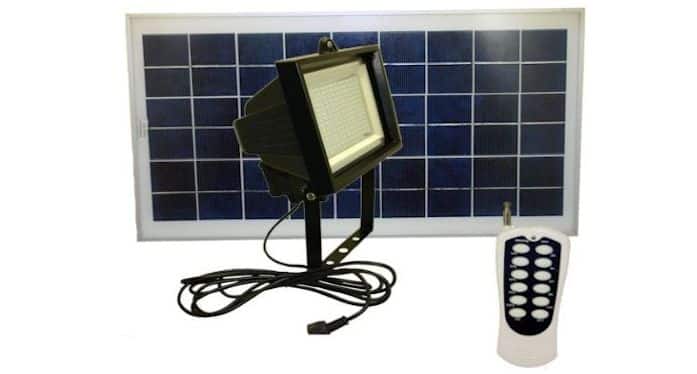 Solar Goes Green is one of the leading manufacturers of the best solar flood lights and solar spot lights. The SGG-F108-3T is one of their best products. This floodlight uses SMD LEDs which will last for years. It generates one of the brightest illumination of all the solar lights on the market.