Description
Solar Goes Green  SGG-F108-2T commercial solar flood light with remote control is perfect for applications such as sign lighting, riding arena illumination, parking lot lighting and area lighting. The 108 LEDs deliver 632 lumens, which is roughly comparable to a 150 watts filament bulb. It is bright and reliable enough to cast light to a 30ft. x 30ft. area.
During the day, the stand-alone solar panel charges the 11.1 volt/6 amp hour lithium (Li-Ion battery which is located on the solar panel's back. The Li-Ion battery pack feeds the LEDs at night. After a full charge the solar flood light can generate up to 12 hours of illumination. An intelligent voltage detector allows the LEDs to run longer when the battery charge starts to drop.
The LEDs automatically switch on at dusk and off at dawn. The solar powered flood light can also be triggered remotely by the included RF remote control which operates for up to 60 feet away. An On/Off switch is also available. The SGG-F108-2T commercial LED solar powered flood lights includes our newest remote control technology that will now provide timer, dimmer or automatic dusk to dawn operation.
Remote control features:
ON/OFF
Dimmer (10%, 30%, 50%, 70%, 100%)
Timer (2 hrs, 4 hrs, 6 hrs, 8 hrs, 10 hrs)
The SGG-F108-2T consists of 2 distinct parts: a die-cast aluminium housing (holding the SMD LEDs, rechargeable battery, electronics) and a separate solar panel. The LED flood light is designed to be mounted on any flat surface or easily adapted for pole mounting. The solar panel comes with a stake for ground installation. An optional pole bracket is available for the solar panel Click here and should you need to increase the distance between the solar flood light and the solar panel a 10 ft. extension wire is available Click here
The Solar Goes Green SGG-F108-2T 108 LEDs super bright solar flood light comes with free shipping. It features a 3 year warranty for the LED flood light, 1 year for the solar panel and a 90 day warranty for the remainder of the product. Shop with confidence and at a low price at Greenlytes.com.
Possible applications:
Commercial and residential signage
Accent lighting for trees, monuments, buildings
Flag lighting
Driveways
Parking lot lighting
Disaster areas
Horse arena lighting
Camping areas
Security lighting
If you are planning to illuminate your property at night, one of the best solution today is to chose a solar flood light. Many type of solar flood lights are available today. All of them come with bright LED, solar panel and efficient battery pack able to power the light all night long. The best solar floodlights are weather proof and made of durable material.
The SGG-F108-2T 108 LED solar flood light with remote control will definitely meet your needs.
What to expect from the best solar flood lights
High intensity LEDs
High brightness
Efficient solar panel able to fully charge the battery pack
High capacity lithium battery pack
Quality sensor/photocell able to efficiently manage automatic dusk to dawn operation of the solar floodlight
This solar powered flood light from Solar Goes Green is designed to illuminate any part of your property. The 108 LED gives up high intensity lighting. This bright illumination helps clearly identify any object or person at night.
This commercial solar flood light is weatherproof/dustproof and will handle any weather condition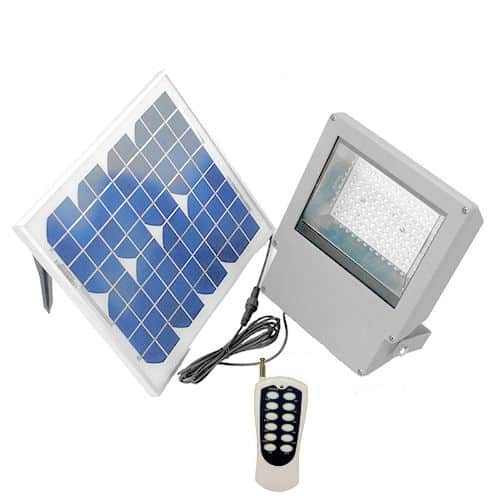 The light also comes with a photocell to automatically switch on at night. The photocell can be bypassed to keep the flood light on continuously. The unit also has an on/off switch.
This solar light has an overcharge and over-discharge protection which will prevent the solar panel to overpower the battery and will also protect the battery pack from draining out too much power.