You are here:
Home
›
Solar Flood Lights
Showing all 9 results
Solar Flood Lights
If you are looking for some bright and efficient LED solar flood lights, we've got just the right selection for you.
Greenlytes LED Solar Flood Lights feature state of the art technology. They let you easily and quickly illuminate your outdoors, objects, business signs, etc.
Each light is specifically engineered for reliability and high brightness. Our LED flood lights are manufactured with high quality and durable materials able to withstand the wear and tear of the outdoors.
With solar panels, bright LEDs and rechargeable batteries as part of each unit, your light fixture is guaranteed to be low maintenance. Check our selection
With a day of sunlight, your LED solar flood light battery will charge with the necessary juice to power it through the night. In addition, the built-in photocell will detect the time of day, whether dusk or dawn, and turn on the unit depending on whether light is needed. You will never have to worry about whether you turned the outside lights on.
Click here for more details about the SGG-F108-2T Commercial Grade Solar Powered Flood Lights 108 LED
OUR SOLAR SIGN LIGHTS CAN BE USED FOR MORE THAN JUST OUTDOOR SIGNAGE
Greenlytes bright solar lights can also be used to highlight features, objects or to simply create a unique mood in your garden by highlighting shrubs or trees.
If you have a beautiful fountain or statue on your property you can show it off with flood lighting. Solar powered flood lights can also provide lighting for safety purposes (on a walkway, doorway or even a garage or shed). They are a great option for all your low maintenance lighting needs.
Every solar flood light features:
Single stand-alone solar panel
SMD LED module
Lithium battery pack
Electronic control (charge controller, photocell, over charge protection, etc.)
Mounting bracket
Manufacturer warranty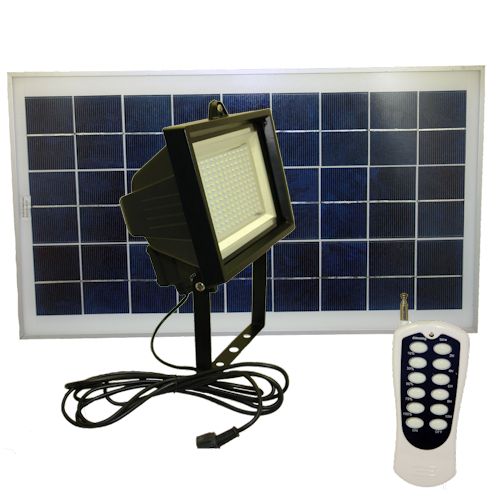 Solar LED floodlights are perfect for any outdoor area lighting
They come with various mounting options (wall, post or pole mounted) and do not involve any electrical connection, therefore they are ideal for DIY installation.
Most solar floodlights have an on/off switch. This feature allows to turn the unit on or off manually if necessary.
Super bright solar powered flood lights are suitable for both residential and commercial use
They provide a powerful lighting which makes them perfect for illuminating entrances, yards, landscapes, terraces, pathways and garages. They will also perfectly work for illuminating parking lots, commercial signs and billboards.
Our commercial solar flood lights use the latest in LED technology
Most our floodlights are fit with SMD LED (Surface-Mounted-Device Light-Emitting Diode) which are brighter than traditional LED. Click here for more details about SMD LED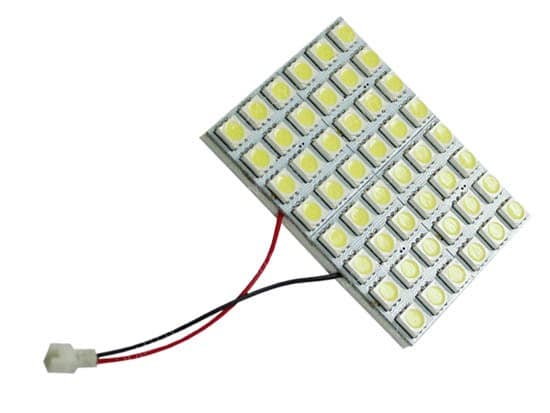 SMD LED MODULE
Where to use Greenlytes solar flood lights
Our high lumen solar LED floodlights are multi-functions lights which can be easily mounted at any location where there is sufficient sunlight.
They are perfect for commercial and residential sign lighting, parking lot, front yard, walls, camping, RV, camping, trees, driveway and any remote location where wireless illumination is needed.
Solar LED floodlight installation and operation
To use Greenlytes solar LED flood lights, simply mount the fixture to the location, point the solar panel to the south and turn the unit on. The sun will automatically start to charge the battery pack and stop charging once it is full. At sunset, the photocell will switch the solar flood light on for the night.
Solar flood lights come in a wide range of choices and features, because each light is designed for a different purpose.
Most solar floodlights available on the market are designed to operate from dusk till dawn or all night. Lights in this category must have enough battery capacity to run the LEDs for at least 8 to 12 hours and more.
Greenlytes carries some solar powered flood lights with remote control and timer capability. As a result our solar flood lights can run for longer periods of time.
Why use solar flood lights?
Solar flood lights use less power
Due to the fact that solar powered flood lights don't use electricity, they are the perfect choice. Despite running on solar energy, the best solar flood lights produce as much brightness as their electric halogen equivalent for a fraction of the cost, since they require no electricity.
Solar floodlights can be mounted anywhere
The best solar flood lights are rated for all seasons and will work just as well in most weather conditions. Winter and rain do not alter the output of solar panels and can in fact help to keep them clean and free of residus. Just make sure the solar panel is getting sunlight most of the day.
They are easy to install
Compared with electric powered flood lights, solar flood lights are quite easy to setup. Most models come with all the necessary mounting hardware. In case you are planning to mount it on a wall, you will just need a drill to make a couple of holes. Best of all no wires or mains are needed.
Solar flood lights are easy to operate
No need to remember to switch them on. How do the solar flood light knows when to switch on? The secret lies in a small electronic component called photocell. In fact, during the day, the solar cells recharge the battery pack but the photocell stops the solar flood light from switching on. At night, the photocell or photo-resistor detects darkness and activates the LED flood light. all this is done automatically, without any human intervention.
Some of our solar floodlights suppliers
Solar Goes Green
Solar Goes Green LLC is a manufacturer and distributor of professional grade outdoor solar lighting products. Their main product line, solar flood lights are very bright and reliable. They do not make a lot of products but the ones they make are of great quality and design.
they provide a great customer and that's why their lights have great customer ratings.
Solar Goes Green supply solar flood lights to individuals, corporate as well as the US government.
Maxsa Innovations
Maxsa Innovations design and manufacture solar post lights, solar flood lights and solar security lights. The company is also specialized in safety , comfort and convenient technologies. They create some of the best and most convenient products.
They offer a great selection of solar powered flood lights which range from smaller 12 LED floodlight to high brightness 150 LED solar security light.
Maxsa Innovations has great products and a great customer service.
Our LED flood lights are guaranteed to be of the highest quality and latest technology
Browse our site for the best prices and shop with confidence that you won't be paying for more than the product you need. All our commercial solar flood lights feature a manufacturer warranty.