You are here:
Home
›
Solar Security Lights
Showing all 7 results
Solar Security Lights
Greenlytes Solar Security Lights feature the latest in LED and motion detection technology allowing your light to turn on when needed to scare away intruders or provide automatic lighting when you are coming home at night.
We carry a comprehensive selection of affordable and reliable LED security lights and motion detector lights which activate each time somebody moves in front of the infrared sensor. These units are easy to install and perfect for any home or business.
All our solar powered security lights feature a built-in infrared motion detector (PIR) which can be adjusted for sensitivity, range detection and illumination duration. The flood lights come with ultra-bright LEDs which can provide powerful lighting for up to 150'.
LED solar security lights are not limited to protecting your home from intruders but they also provide light for anyone entering an area that may need momentary lighting for safety. They are perfect to protect your main entrance or to generate brief illumination to your garage, steps or pathways. Some places don't need permanent lighting, but only for short durations when someone is there. These solar motion security lights are the perfect option for such situations.
Nothing will protect your home or business better than a solar Security light with motion detector from Greenlytes.

Click here for more details about the 64 LED Commercial Solar Security Light
WE CARRY AN EXTENSIVE VARIETY OF SOLAR SECURITY LIGHTS RANGING FROM 8 TO 100 LEDS
Solar security lights are of great help when you need to momentarily light up certain areas of your property due to safety and security concerns.
Once someone crosses in front of the infra-red motion detector, the powerful LEDs are triggered and stay on for a short period of time.
All our solar powered security lights are equipped with high power LEDs and are suitable for residential, commercial, and industrial applications.
Solar powered motion lights can be installed virtually anywhere in no time. No need for power outlets or electrician.
Greenlytes solar security lights are very easy to mount in contrast with electric powered ones.
Mounting hardware and instruction manual are included in the box. You just need to fasten the light and solar panel to the wall or any other flat surface.
Just keep in mind that the stand-alone solar panel must be facing the sun much of the day.
Finally you just need to adjust the motion detection range and lighting duration.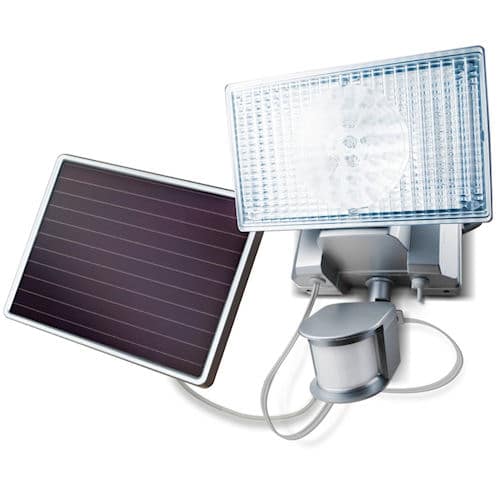 100 LEDs Solar Security Light
FEATURES OF OUR SOLAR POWERED SECURITY LIGHTS
High output white LEDs
Aluminum or Extra resistant ABS construction
Stand-alone solar panel
Photocell for dusk to dawn lighting
Included mounting hardware
Adjustable infrared detector
Adjustable lighting duration
SOLAR MOTION LIGHTS POSSIBLE APPLICATIONS
Porch illumination
Home entrance
Garage
Main property gate
Business entrance
dark corners
For years installing security lights outside the home was a big issue.
The reason being that most of the time there is no mains electric power where you need your security light to be installed. This is one of the main reasons why people are now installing solar security lights.
There is no need for unattractive power cables running through your property. No more drain on your electricity consumption. You can now enjoy virtually permanent illumination without the costs.
Solar motion lights are really effective at discouraging criminals from trespassing on your property during the night.
They are also good at informing you that someone is outside your house. Solar motion lights are certainly a practical and efficient solution for obtaining the security lighting one needs.
Where to provide security lighting
You need to make sure the most important areas of your property are adequately illuminated. Doors and pathways should have the priority.
Most people only think about a solar security light for their main entrance door or porch, but that's the least likely area for an intruder to be.
You need to protect the backyard and the sides too. Not only to discourage intruders, but also to provide you some additional lighting at night.
Everybody agree that motion sensor lights as opposed to regular lights do have a security benefit.
There is a big difference between a steady light and one that switches on unexpectedly. When criminals come to a property and are welcomed by a very bright flash of light, in most cases they will run away.
Picking a solar powered security light can be tricky.
Nowadays, you can find dozens of different makes and models on the market. They come in may shapes and sizes. Solar motion lights also have different detection area and different brightness.
The best solar security lights use LED bulbs (light emitting diodes).
LEDs are bright and only use very little energy making them the best choice for solar lighting.
Greenlytes recommends installing solar powered security lights with motion sensor around your property to help prevent any eventual break-in and to help secure multiple areas.
If you're looking for an affordable and efficient way to protect your house and loved ones, our bright LED wireless solar powered motion sensor Lights are a great choice. Not only they are very bright, they are also waterproof and durable. They are designed to work all year round.
LED solar motion lights can be adjusted to your personal preferences.
You can program which level of darkness triggers the floodlight, how long the LEDs stay on once activated, its motion sensitivity, and the range of motion sensor.
When it comes to the positioning of you solar panel, make sure that you get the best sun exposure. The more sun the panel gets, the longer and brighter the LEDs will shine.
You want your solar motion lights installed high enough. It will be more difficult for intruders to neutralize them.
The different types of solar security lights.
Most solar security lights on the market today come in two pieces where the flood light and the solar panel are distinct units. Usually such models come with enough length of cable to connect the light to the solar panel. Having the possibility to place the solar panel in a different location allows the mounting of the flood light in shaded areas, or even in total dark. This is why the 2 pieces solar powered security lights are best sellers. They provide enough flexibility for locating both the flood light and the solar panel in areas where they are needed.
Some solar motion lights come with a built-in solar panel. In this case the whole unit needs to be located in an outdoor area where the solar cells can receive a sufficient amount of direct sunlight during the day.
If you need permanent security lighting (without motion detector) check our very bright LED solar flood lights and solar powered spot lights