You are here:
Home
›
Solar Spot Lights
Showing all 7 results
Solar Spot Lights
Greenlytes features only the best Solar Spot Lights. They are the brightest on the market and will suit all your outdoor lighting needs.
These incredibly bright solar lights deliver powerful lighting in no time to your landscape, signs, flags or walkways. They can be deployed virtually anywhere. Any outdoor space or object needing accent lighting can benefit from our LED solar powered spot lights. Each unit comes with ultra-bright LEDs, efficient solar panel, rechargeable batteries, mounting hardware, instructions manual and manufacturer warranty.
The included rechargeable batteries get charged during the day (by the solar panel) and a built-in dusk to dawn sensor automatically triggers the LEDs at night. The adjustable swivel mount allows for maximum flexibility.
All our LED commercial solar spot lights are designed for fast and easy installation. They are made of durable and weather proof materials and can endure challenging environmental conditions.
If you've been planning to brighten and secure your garden, a good bet would be to add a few solar spotlights. Greenlytes solar spot lights will provide reliable and bright illumination without the cost of electricity and without complex electrical installation.
Solar powered spot lights can be a great alternative to electric spotlights. They produce efficient lighting with negligible effort and minimal maintenance. No cables or complicated wiring is needed. As a result your property will be the envy of the neighbors.
Click here for more details about the CSFPL-C Commercial Solar Flagpole Light
Greenlytes offers solar powered spot lights with separate solar panel. A long cord connects the spotlight to the panel. It means you can install the light anywhere you like. Just make sure the solar panel is not in the shadow and can receive direct sunshine for most of the day.
GREENLYTES ONLY FEATURES HIGH-GRADE SOLAR SPOT LIGHTS
Here you will not find cheap and useless dim solar spot lights. We believe in quality and our high output LED solar spotlights are the best on the market. You'll be impressed by the brightness they generate. In addition they are energy efficient and environmentally friendly.
Whether you need lighting for additional safety, to increase your visibility range at night or to showcase specific items, this is definitely a worthy investment.
Made of high-grade cast aluminum, they can be staked into the ground, surface mounted or pole mounted. They can be installed quickly and safely and will withstand any weather condition. Most solar powered lights we carry can provide from eight to twelve hours of light each night.
These very bright solar powered spot lights automatically charge during the day and operate from dusk till dawn. They offer a quick and simple solution to highlight any outdoor areas and can also be used to illuminate small signs, flagpoles, trees, statues, driveways, property entrances and more.
Anywhere direct and bright lighting is necessary be assured that Greenlytes LED solar spot lights will properly do their job.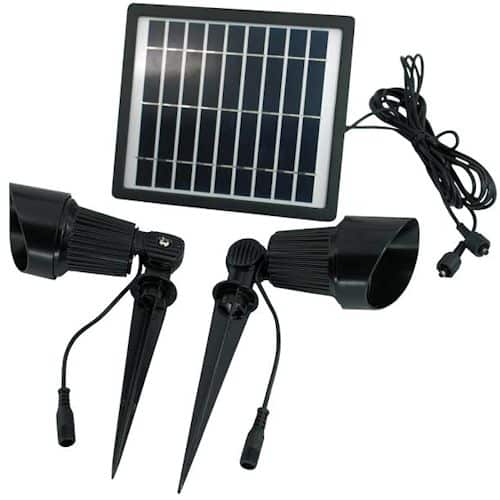 Commercial Grade Dual Solar Spot Light
Using solar spotlights to enhance your outdoors
In an ideal world, your property should look as good at night time as it does during the day. To really appreciate your garden at night, you want to make sure it is properly illuminated. For that, LED solar spot lights are definitely a great choice.
A solar spotlight is the best choice for illuminating trees, plants and other features of your landscape.
The best solar spot lights use LED lights and will run all night long without any problem. They are designed to automatically switch off during the day. They are bright enough to provide excellent illumination.
Solar spotlights offer flexibility and versatility electric lights can't match. For example, relocating a solar spot light all the way to the far side of the garden is very easy, because of the lack of electrical wiring and its autonomous power supply.
The best solar spot lights are designed to effectively light a path, lawn and cast a glow on the natural elements or objects. They are also perfect for illuminating trees and other features of your garden. The best solar spot lights can be used to light up sculptures or any other structure. They can last all night.
Solar spotlights are also a great choice for illuminating landscape features like fountains. Thanks to their directional head, the light can be pointed precisely to the right direction.
Using solar spotlights to improve security
With winter approaching and days getting shorter, no one wants to get back home to a dark place. On the other hand, no one wants to pay to leave lights on all the time either.
A well lit property is by far safer than a home cast into darkness. Fortunately, there is a solution! By installing solar spotlights, you can deter intruders trying to break into your property illegally.
Solar spot lights for safety
Like their electric counterparts, solar spotlights can be used to cast light on driveways, steps, patios, walkways and any other dark places around a property.
By adding solar spotlights or solar flood lights around your property, you can safely find your way in the dark with minimum risk of injury to you or your guests.
Solar spotlights add also safety by illuminating pathways and steps around your property. With proper lighting residents and visitors can walk outside in the dark and avoid any potential hazards. This also definitely ensure the safety at night to people with mobility issues or to seniors.
For even more powerful lighting you can check our LED solar flood lights
GREENLYTES LED SOLAR SPOT LIGHTS COME WITH FREE SHIPPING